जिंदगी में शांति से जीने के दो ही तरीके है! - There are only two ways to live peacefully in life!
जिंदगी में शांति से जीने के दो ही तरीके है!
By Smile World On 2021 In Zindagi / Life Hindi Quotes Tagged Hindi Quotes for Facebook, Life Quotes in Hindi, Quotes in Hindi for Whatsapp, Zindagi Quotes in Hindi Leave a comment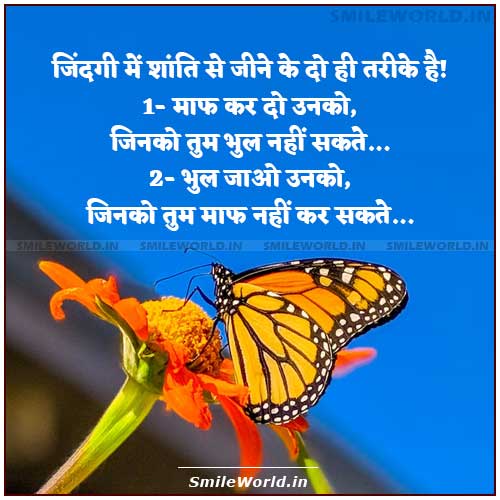 Life Living and Zindagi Quotes in Hindi Anmol Vachan
जिंदगी में शांति से जीने के दो ही तरीके है!
1- माफ कर दो उनको जिनको तुम भुल नहीं सकते…
2- भुल जाओ उनको जिनको तुम माफ नहीं कर सकते…
Zindagi Main Shanti Se Jeene Ke 2 He Tareeke Hai!
1- Maf Kar Do Unko Jinko Tum Bhula Nahi Sakte!
2- Bhul Jao Unko Jinko Tum Maf Nahi Kar Sakte!
ले देकर अपने पास सिर्फ इक नज़र तो है,
फिर क्यों देंखे ज़िंदगी को किसी और के नज़र से हम॥
"कुछ रहम कर ऐ ज़िन्दगी थोड़ा संवर जाने दे…
तेरा अगला जख्म भी सह लेंगे,
पहले वाला तो भर जाने दे"…#
पतंग सी है ज़िंदगी,
कहां तक जाएगी रात हो या उम्र,
एक ना एक दिन कट ही जाएगी।
ज़िन्दगी की यही रीत है,
जो भाव ना दे उसी से प्रीत है..।।
जिंदगी सिर्फ एक बार मिलती है
यह सच नहीं
जिंदगी हमें रोजाना मिलती है
मौत सिर्फ एक बार मिलती है
इंसान की परेशानियों की
सिर्फ दो ही वजह है
वह तक़दीर से ज्यादा चाहता है
और वक्त से पहले चाहता है
जब तक रास्ते समझ में आते है
तब तक लौटने का वक़्त हो जाता है
बस, यही तो जिंदगी है